The Guardian, November 2007, The Guardian Guide to Baking:
"...the sourdough genius Mick Hartley..."
Extract from New York chef Jeremy Shapiro's interview with Dan Lepard, UK's top artisan baker, Saturday Guardian columnist and author of "Baking with Passion" and "The Handmade Loaf", for the website Stir The Pots:
"Jeremy: There's a baker on the forum of your web-site, Mick, that I really appreciate...

Dan: Mick is very special. Mick is extremely talented and if we had a hundred Micks all with bakeries producing bread we'd be in a very good position. He's tremendous, very, very good."
Winner of the Innovative Loaf category and Overall Winner of the 2007 Ludlow Food Festival bread competition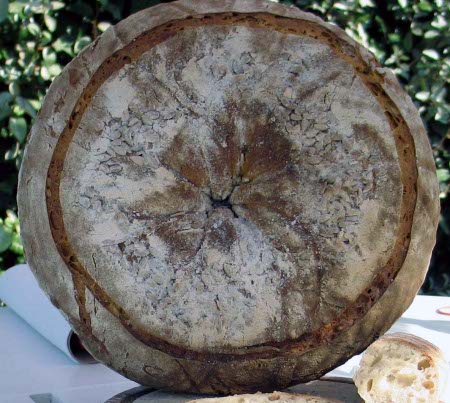 Butternut Squash, Sunflower Seed & Chilli Couronne Ludlow Festival Prize Winner